The Big Brother Naija house now has 18 housemates after Biggie added 5 new housemates and Jeff being evicted. Jeff was up for eviction with Tacha, Omashola and Mike. The new housemates are Joe, Evolonama, Cindy, Venita and Enkay Read More...
This season is going to be hotter than the previous versions, the housemates are not joking and, other than the money, they are into serious business.
The last housemate went to bed at about 4:00am Naija time, but they were determined to go all the way. Biggie never runs out of games, the housemates were not given their bags, so they literally had the clothes they walked with to the house, underwear save for the Biggie's towels they met in the house...Read More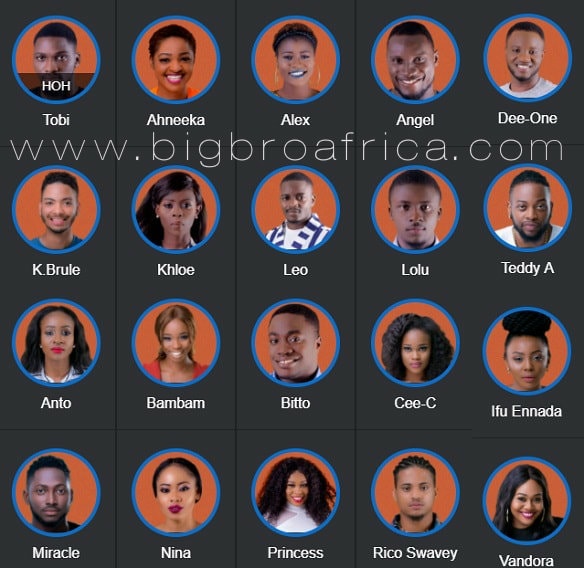 Big Brother Naija season 3 is on already and the house is full of drama. On night one, some housemates almost failed to sleep as they were busy getting to know each other. Just like the previous versions, Ebuka is the host of this one save for Big Brother's voice that has changed, the new Biggie is not audible and matters are made worse when he tries to sound just like the original Biggie.
Ten male housemates and ten female housemates are in the run for 45million Naira prize, they include housemates from different fields ranging from pilots, fashion designers, bankers, freelancers and fitness managers, among others.
Some have promised to give Africa what they have never seen before. A case in point is Anto, who was born and raised in the US and a fan of Big Brother Africa, she says that for instance in the previous season, there's nothing to write home about, so she is here for the money, but also to give Africa what they've not seen before.
They are all promising fire, but at the end of it all, there's only one man or in that case one woman standing.
The show will run for 85 days and the housemates will be playing the game as partners, thus the phrase Double Wahala, they will be punished jointly and also when it comes to eviction, the affected pair will leave the house together. Viewers are appealing to Biggie to allow them play as individuals as opposed to partners.
On the very first night, 6 housemates were taken to a different house that Biggie is yet to show us.
Read Also: Big Brother Naija season three kicks off

It's only 16 days left before the cameras can start recording the action in the Big Brother Naija house.
Ebuka Obi-Uchendu will still be the host of the biggest reality show in Africa.
Season 2 was won by Efe Ejeba taking with him the N25 Million prize money and SUV after three months in the Big Brother house.
Auditions for the show were held in six locations across Nigeria drawing massive crowds that expressed interest in being part of the reality show with vid cams roving in all corners of the BBNaija house.
Big Brother Naija Season 3 premieres on Sunday 28 January 2018 and will be exclusive to DStv Channel 198 and GOtv Plus Channel 29.
| | | |
| --- | --- | --- |
| | | |