The Big Brother Naija house now has 18 housemates after Biggie added 5 new housemates and Jeff being evicted. Jeff was up for eviction with Tacha, Omashola and Mike. The new housemates are Joe, Evolonama, Cindy, Venita and Enkay Read More...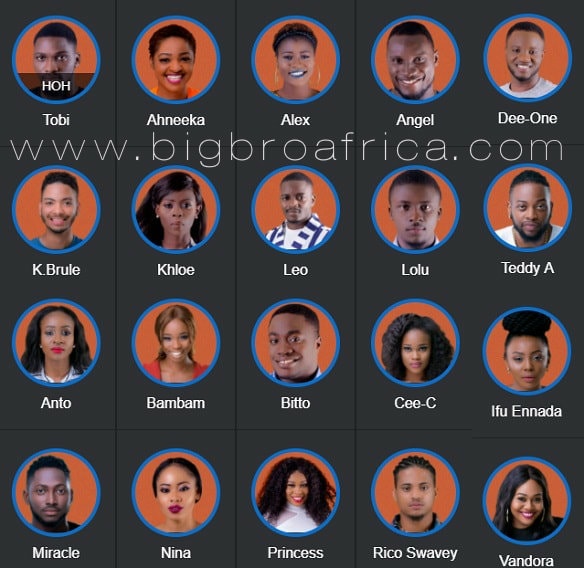 Big Brother Naija season 3 is on already and the house is full of drama. On night one, some housemates almost failed to sleep as they were busy getting to know each other. Just like the previous versions, Ebuka is the host of this one save for Big Brother's voice that has changed, the new Biggie is not audible and matters are made worse when he tries to sound just like the original Biggie.
Ten male housemates and ten female housemates are in the run for 45million Naira prize, they include housemates from different fields ranging from pilots, fashion designers, bankers, freelancers and fitness managers, among others.
Some have promised to give Africa what they have never seen before. A case in point is Anto, who was born and raised in the US and a fan of Big Brother Africa, she says that for instance in the previous season, there's nothing to write home about, so she is here for the money, but also to give Africa what they've not seen before.
They are all promising fire, but at the end of it all, there's only one man or in that case one woman standing.
The show will run for 85 days and the housemates will be playing the game as partners, thus the phrase Double Wahala, they will be punished jointly and also when it comes to eviction, the affected pair will leave the house together. Viewers are appealing to Biggie to allow them play as individuals as opposed to partners.
On the very first night, 6 housemates were taken to a different house that Biggie is yet to show us.
Read Also: Big Brother Naija season three kicks off
| | | |
| --- | --- | --- |
| | | |